COVID-19 TESTING AND VACCINE CLINIC INFORMATION
COVID-19 Drive-Up Testing Site Now Open
The Marysville School District COVID-19 drive-up testing site is now open to serve students, families, and staff. Parents or guardians must be present for any students under age 18 to be tested.
The testing site is located at the Marysville School District Educational Service Center, 4220 80th Street NE. Enter on the east side of the building at the main entrance and follow the directional signage (south) to the site. See the map below.
The central testing site opened on November 15 for rapid testing for COVID-19. PCR testing for COVID-19 will be accessible beginning November 22. PCR tests take 24-hours or more to process.
Please reserve a testing appointment by calling (360) 965-0081 or email covidtesting@msd25.org. Rapid tests between 7:30 am and 3:30 pm does not require an appointment but you may experience wait times. The testing site is open from 7:30 am - 4:00 pm Monday through Friday with the exception of access to PCR testing on Fridays which will close at 1:00 in order to get the test submitted for analysis prior to the weekend. If individuals do not have transportation to the central testing site, please contact your child's school health services staff to inquire about rapid testing.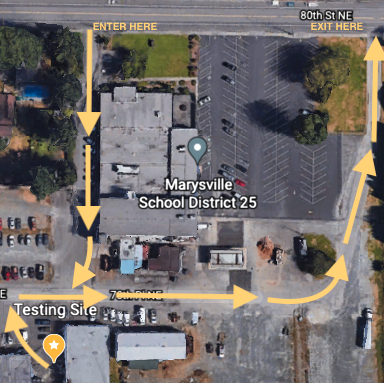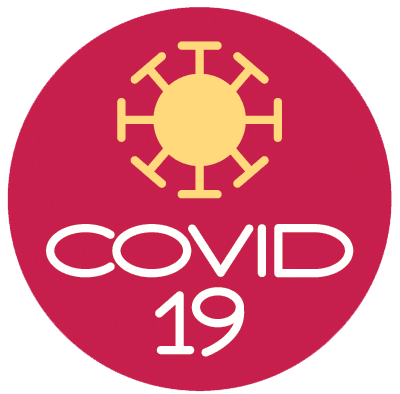 COVID-19 POP-UP VACCINE CLINIC
Stay tuned for February and March dates. The Clinic is provided by the Department of Health*.
*The Marysville School District has neither reviewed nor approved the program, personnel, activities or organizations announced and undertake no responsibility to supervise these events. The distribution of this information should not be considered a recommendation or endorsement of the program by the district. The Marysville School District shall be held harmless from any cause of action or claim arising out of the events or activities in these materials; including all costs, attorney fees, judgments, or awards.
COVID-19 Rapid Testing Information
In collaboration with the Washington State Department of Health, our school district is participating in a state-funded effort to provide voluntary COVID-19 testing that is incorporated into our existing district reopening plans to further help contain the virus, protect our communities, and keep students and teachers safe and healthy through CareStart rapid testing.
We have developed a screening protocol that each student and staff member must follow if they have COVID symptoms, an exposure, or have tested positive. Even if vaccinated, if there are cold-like symptoms, a fever, or other symptoms, the person may be instructed to get a COVID test.
COVID-19 CareStart rapid test is free and voluntary. People who report symptoms and/or exposures meet the criteria for testing. Teachers, staff, students, and members of their household who show symptoms or have been exposed to someone with COVID-19 will be referred to a testing site that serves the school or the district, where you can get a free test that day.
The CareStart rapid test is done through the use of a painless shallow nasal swab test kit. With this kit, you collect your own sample under the supervision of a trained test observer. Results are available within 20-30 minutes. Depending upon the test result another non-rapid test may be recommended.
In order for students to be tested, a signed consent form is required. Parents or guardians can pre-sign the form when school starts and it will be kept on file should a test be needed. Parents or parent-designated adults will administer the test for their elementary students. Secondary students may administer their own test but parents will be notified prior to any testing.
Our goal is to put the best possible strategies in place so that our students, families, teachers, and staff feel safe, protected, and comfortable focusing on teaching and learning.
If you have any questions regarding COVID-19 symptoms or testing, please contact your school's Nurse.
The CareStart™ COVID-19 Antigen test is a lateral flow immunochro- matographic assay for the detection of extracted nucleocapsid protein antigens specific to SARS-CoV-2 in nasopharyngeal or anterior nasal swab specimens directly collected from individuals who are suspected of COVID-19