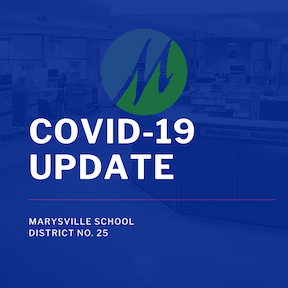 MSD COVID-19 Update, March 30, 2020
Marysville School District
Monday, March 30, 2020
COVID-19 Update, March 30, 2020
Espanõl haga clic AQUÌ
Today marks the beginning of the third full week of school closures due to the COVID-19 pandemic. Students should be receiving contact from their teachers this week as we begin reaching out in a more concerted effort. We continue to receive daily guidance from the Office of the Superintendent of Public Instruction (OSPI) and we will continue to pass on specific information pertaining to students' instruction, grading, and the length of our school closure.
The State Board of Education will be meeting on April 1, 3, and 6. The State Board will work to come to a decision on how to grant credit to high school students, what courses may be waived for high school seniors, and other specific details that have or will be impacting local school districts. We will pass along pertinent information as we learn more.
In case you are not aware, all of our playgrounds, playfields, and other outdoor venues have been closed. This is in alignment with Governor Inslee's proclamation of March 26, 2020. Use of our playfields for group activities such as soccer, baseball, softball, football or other formal or informal games or practices is not allowed. Our outdoor playgrounds, covered play areas, and tennis courts are all closed to all community use. Thank you for your cooperation and understanding of this decision.
Remember next week (April 6-10) is our regularly scheduled Spring Break. It is important to note that our bus meal service will continue during this time. Please click on the link to view the schedule for each neighborhood area https://bit.ly/MSDMealService
For those students or families who need Chromebook support, we have set up a Chromebook Support hotline you may call at (360) 965-0202 and a designated Chromebook support email address at chromebook-help@msvl.k12.wa.us.
Finally, families will be receiving or have received an email from "Little SIS", which is a syncing tool that connects Skyward information to Google Classrooms. This is a utility that creates and manages enrollment into Google Classrooms based on student's Skyward information. The tool also connects your parent / guardian email address with your student. Please accept the invitation when you receive it. This is a legitimate email.
This would also be a good time to log onto Family Access and verify and update your contact information including email address if you have not done so recently.
Please continue to stay safe and take care.
Sincerely,
Jason Thompson
Superintendent