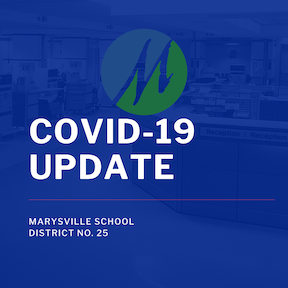 MSD COVID-19 Update, March 20, 2020
Marysville School District
Friday, March 20, 2020
COVID-19 Update, March 20, 2020
Espanõl haga clic aquì
Learning Enrichment Activities
Today's update includes the launch of learning enrichment materials for our families. This information can also be found on the district's website, and there will be more added to these opportunities in the coming weeks. Stay tuned to this daily update and our district website for more information. The resources can be found at the website included below:
As we build more digital resources, we are working to get computing devices out to families who need them.
Reminder, we are making Chromebooks, including some with built-in internet access, available to families who currently do not have access to those resources in their homes.
Chromebooks for Elementary Students
Who can get a Chromebook?
Families of Kindergarten through 5th-grade students who either don't have a computing device for their children to share at home for schoolwork or who don't have either a computer or internet access at home to use for school work.
How do families get a Chromebook if they need it?
We will check out a device to your family at the district office during drive-up Chromebook deployment.
Can I get a Chromebook for each of my children?
At this time, we do not have sufficient inventory to provide a device for every child. We want to ensure each family has access, which may include sharing a device including one that may have already been provided to a 6th through 12th grader through our 1:1 program in middle and high school.
When is this happening?
1st Opportunity for Drive-Up Chromebook Checkout
What: Drive-Up Chromebook Check Out
When: Saturday, March 21 - 9 AM to Noon
Where: Service Center Parking Lot
4220 80th Street NE
Marysville, WA 98270
2nd Opportunity for Drive-Up Chromebook Checkout
What: Drive-Up Chromebook Check Out
When: Monday, March 23 - 9 AM to Noon
Where: Service Center Parking Lot
4220 80th Street NE
Marysville, WA 98270
What do we need to bring for the Chromebook?
You will need your student's name, school, grade level, and student ID number, which is also their lunch number. This will help us verify your child is enrolled in one of our schools, so we can check the device out directly to the student.
What if I can't make either of those times?
We will make additional options available next week after we reassess our inventory and continued need.
What if my child's Chromebook has a problem?
For those students or families who need Chromebook support for a problem, we have set up a Chromebook Support hotline you may call at (360) 965-0202 and a designated Chromebook support email address at chromebook-help@msvl.k12.wa.us.
Food Service Delivery Begins Next Week
Beginning Monday, March 23, buses will start delivery of meals mid-morning every day. The daily schedule is based on the elementary morning bus routes, although not at the usual times. Grab and go meals from the bus locations will continue to be at no cost and for all youth ages 1 - 18 and those enrolled in our 18 - 21-year program. The schedule for each distribution area can be found here: https://bit.ly/MSDMealService
Additionally, delivery buses will be parked at all schools for meal pick-up between 11:30 am and 12:30 pm each day. There are two exceptions, Allen Creek, because we will be serving out of that kitchen to support the YMCA, and the meal bus for the Marysville Tulalip campus (10th Street, Heritage, Legacy) will be located at Quil Ceda Tulalip Elementary. If you miss the bus at one of the area stops, you can always head to the nearest school between 11:30 and 12:30 to pick up meals.
Thank you for your unwavering support for the children in our community. Be safe, and have a restful weekend.
Sincerely,
Jason Thompson
Superintendent